I was first exposed to kimono during my time as one of the Ehime Prefecture International Center's interns in the summer of 2019, and wanted to continue to learn about them upon my return to Hawai'i.
In 2019, I studied kitsuke under Sensei Jean Sakihara, who received the Imperial Order of the Rising Sun in 2009 for her work to preserve kimono culture in Hawai'i. As part of this training, I helped with several volunteer events. One of these was teaching students how to dress themselves in yukata (casual summer kimono) at the University of Hawai'i's Japan Culture Day in fall 2019. The Japan Culture Day is a day-long event organized by the East Asian Languages and Literatures department faculty, and it is attended by students from all across the campus.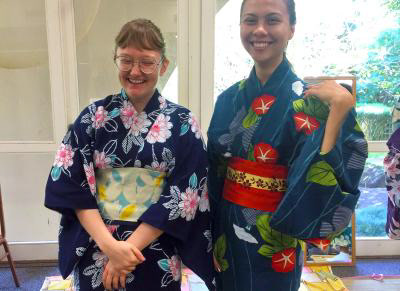 Sakihara-sensei's Kimono Project USA also helps to organize yukata dressing workshops for students who attend the annual Japan Day, which is sponsored by the Japan-America Society of Hawai'i. I helped with the 2019 event, which was attended by high school students from all across Hawai'i.